31-08-2015, 10:14
Forum Newbee

Join Date: Aug 2015

Posts: 1

Votex Key Less Entry Module (deur vergrendeling Golf 3)
---
Er is in mijn auto een zgn "Votex key less entry module" ingebouwd. Deze werkt alleen niet meer. Beide deuren + tankdop gaan niet meer open. Het signaal wordt nog wel doorgestuurd naar mijn knipperlichten (die gaan ook gewoon knipperen wanneer ik op het knopje van mijn afstandsbediening druk). Dus het kastje lijkt nog te werken.
EDIT:
Net geprobeerd zonder kastje, knipperlichten gaan nog steeds aan. Kastje staat er dus los van?
Maar hoe werkt zo'n systeem precies? Waar moet ik naar zoeken? Moet ik naar een soort van pomp zoeken? Zitten die dan in mijn deuren? Of wordt deze vanaf een andere plek aangestuurd? Of moet ik kijken naar een extra relais? Nummer 18 lijkt niet standaard? Auto technisch ben ik een behoorlijke leek. Handleiding lijkt er ook niet van te bestaan.
Hier een overzicht van mijn zekeringkast: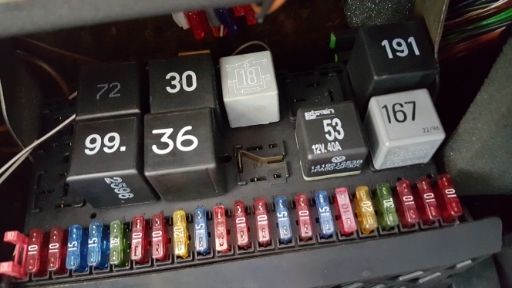 Hier het apparaat:
Iemand die me op weg wilt helpen?

---
Last edited by Jack_ : 31-08-2015 at

10:55

.