25-05-2010, 20:21
Volksforum Crew

- You WILL comply!!

Join Date: Dec 2003

Posts: 25,168

VW Rocktan???
---
god i hope not:
Quote:
Originally Posted by MIBZ
Volkswagen will exploit its partnership with Suzuki by launching a model based on the current SX-4. It is called Rocktan and the Germans will fight with Nissan Juke and Toyota Urban Cruiser.

After connected a close partnership with Suzuki and bought a stake of 19.9% in the Japanese automaker, Volkswagen is already thinking how to better use the Nippon resources. According to unofficial sources, the German leadership wants a new model in range, based on the Suzuki SX4. It would be named Rocktan and become the first concrete result of the joint venture's created between the two sides
The new member of the Volkswagen range will be a city SUV, positioned between the present CrossPolo and Tiguan. Theoretically, by launching Rocktan, the Germans will try to offer a more individualistic replacement of the old CrossGolf. Moreover, the model will allow to the automaker from Wolfsburg to rival with the new Japanese models, such as Toyota Urban Cruiser and Nissan Juke, launched in March at Geneva Motor Show.

As expected, the engines range of the German model will borrow Volkswagen's familiar engines, including: 1.4-liter TSI engine for those who prefer gasoline, and 1.6-liter, respectively 2.0-liter TDI engine for those that favor diesel.

There is currently no information about the starting price, but is expected that VW Rocktan will cost under $25,000. The release date was not announced, the Governing Board will give its consent for the series, which will probably take place in Hungarian plant from Esztergom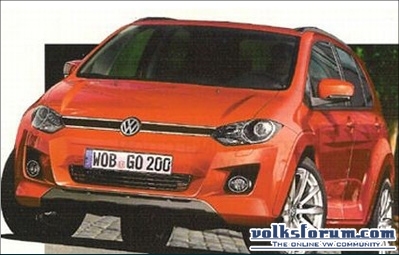 __________________
Welcome to the internet:
Where men are men, women are men, and little girls are FBI agents.