Ik heb 2 weken geleden een notchback gekocht, bekent hier op de site. Super wagen maar 1 nadeel er is iets met de motor.
De motor is een keer erg warm geworden doordat de koelkleppen dicht hebben gestaan. Wat zijn de meest voorkomende gevolgen hiervan????
Als de motor warm draait is er geen vermogen meer en rijd dus voor de meter niet, dus mijn vraag is of de schade onherstelbaar is aan de kop of cilinders of kan het meevallen, of toch beter een andere motor erin leggen.
Dit is voor mij de eerste luchtgekoelde auto. Ik sleutel wel al 10 jaar aan auto's en voornamelijk golf 1 dus ben wel goed in sleutelen aan waterkokers. Dit luchtgekoelde is dus eigenlijk nieuw voor mij en ben mij er meer in gaan verdiepen.
Ik wacht eens af als hij hier staat en dan ga ik eens op onderzoek uit, maar tips zijn zeker welkom.
Groetjes Ron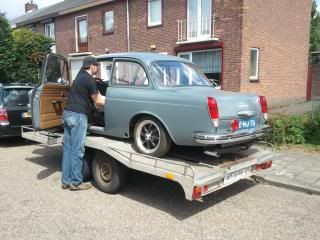 [IMG]http://i255.photobucket.com/albums/hh151/caddyron/2011-08-0[IMG]