Te Koop
Golf I LS uit 1981
Auto is voorzien een 1.8 DX motor.
Interrieur zonder hoofdsteunen helaas wel in de zitting een klein scheurtje.
Voorzien van een schroefset.
Auto staat op 16" Porsche wielen met H&R adapters incl slotbouten.
Afgelopen jaar is het volgende vervangen:
- startmotor
- accu
- logo's achterklep
- chrome strips op dorpels
- radiateur
- koelvloeistof
- chromepees achterruit
- velgen in zwarte lak gecoat
- reviseset schakelstangen, rubbertjes, klemmen en armpjes
- professioneel gepolijst
- binnenzijde kofferruimte wielkasten gespoten ivm vele beschadigingen
- bumpers, spiegels, handgrepen en raamspijlen opnieuw zwart gespoten
- APK geldig tot 14-06-2020
De auto rijdt prima en is rap zat.
Wel een aantal minpuntjes:
- de claxon werkte niet, hier is een ander voor geplaats met een losse knop
- auto is voorzien van 5 bak alleen is schakelmechanisme niet aangepast daardoor 5e versnelling niet te benaderen
- lak is niet de mooiste meer
- motor moet afgesteld worden
Auto is evt zonder Porsche wielen te koop, of zelf wielen meenemen of ik heb een set roze lichtmetalen Seat Arosa velgen. (Prijs is in overleg)
Waarom gaat de Golf weg?
We hebben een T1 bus gekocht en voor de T1 bus een huis met een garage.
Dus de centen hebben een nieuw doel.
Vraagprijs € 4750 is natuurlijk onderhandelbaar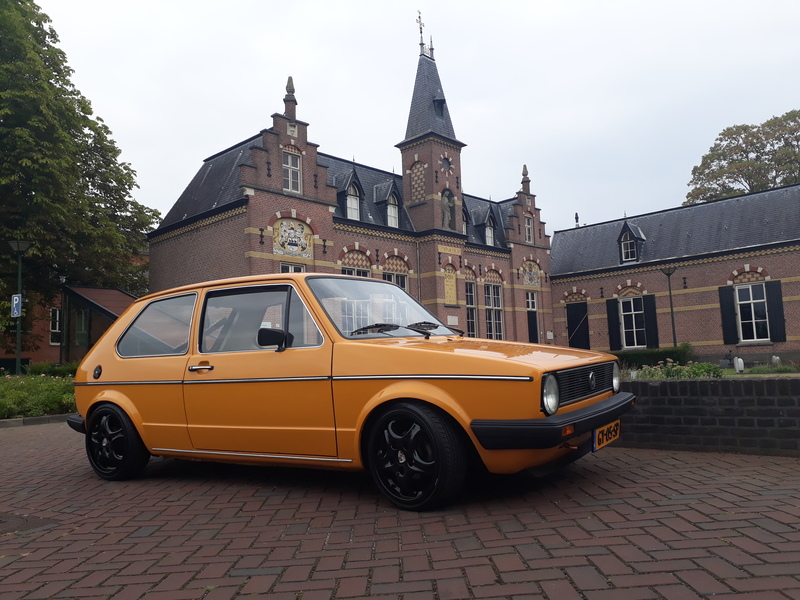 https://www.marktplaats.nl/a/auto-s...previousPage=lr