Did it ever cross your mind ''some extra power would be nice from my old tired v-dub engine'', but always getting that thinn diarrhea from the prices of tuning parts? Gone are the days when you could pick up a cheap pair of Webers, bolt them to an even cheaper manifold and get some impressive curves. Nowadays, a new pair of 40 mm carbs and an inlet manifold can almost reach a four-figure sum, which is fast approaching throttle-body territory.
Forget those expensive throttle bodies, fuel injection or big fat Webers
-here's an effective alternative solution to get some more Bang for your Buck: a set of four motorbike carburettors.
Because the fashion nowadays in Holland is old-skool (check that last PVW issue MK1 madness) and I like some machining and welding in my spare time. I started making costum manifolds.
To be able to make manifolds I use some high-tech machines. For example:
A Milestone CMS Tecnocut waterjet cutter to make the base of the manifold.
A HBM 250x400 boring mill or metal lathe (In my own garage)
A HBM CY125 Profi bandsaw (In my own garage)
A IMS 161 DC HF Tig welder to weld Normal and Stainless Steel (In my own garage)
A Cebora 2030 AC/DC Tig welder for aluminium (aluminium I don't weld myself)
A HBM 16 Vario table drill (In my own garage)
With these machines I make a variation of manifolds. The manifolds differ from simple 900 till 1300cc smallblock manifolds for 36mm bike carbs till complete manifold set-ups voor 8/16 and 20 v(t) engines, downpipes etc. But at the moment my main focus is bike carb manifolds.
The manifolds:
At the moment I produce three different product variations in two different materials, Stainless and Aluminium.
Products:
Bouwpakketten:
For those who like DIY, I offer construction kits. These kits contain all the pre-cut and machined components needed to make a complete manifold. The only thing you have to do is cut the runners to length and weld all the components together. This kits a the perfect sollution for those who like to do things theirself but are not capable of these hightech cutting-, drilling- and millingmachines. This way everybody is satisfied and the prices could be kept as low as possible.
Plug and Play:
When welding the manifold together yourself is not an option. I offer complete manifolds. These Plug and Play manifolds are basicly the same as the construction kits but cut to size and welded by me or my buddy. .
Complete kits:
These kits contain all that is necessary to convert from original to bikecarb fueling. Manifold, gaskets, fuelhose and clambs, fuelfilter, fuelpump, fitting kit and a manual to guide you through.
Optionlist:
Is a complete kit too expensive or did you manage to get some parts yourself. I also offer a optionlist with every part on it you will need.
Carbsets, Carb parts, Powdercoating, Ceramiccoating, Gaskets, Fittingkits, Fuelpumps, Fuelhose, filters, etc..
For the entire list, the best is you send me a PM or E-mail.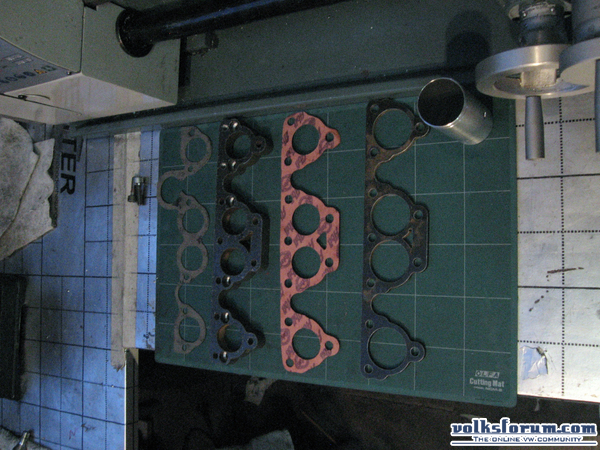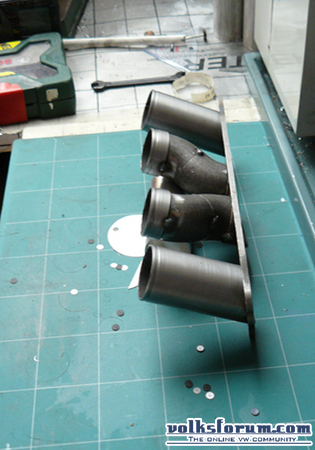 Prices vary from GBP.43,- for a Stainless Baseplate to GBP.458,- for a complete kit.
Also for: ITB, Turbo, Downpipes and weber/solex applications.
Exhaust manifolds yet in development
For more info or questions:
PM or
dub-detail@live.nl
Kind regards, Pim Bonne